Updated: November 6, 2019
Last weekend, I participated in Noel De Luxe, a weekend bazaar at the Megatent in Pasig City.
This was my first time to sell in a bazaar this big, where the target market is upper middle and upper class residents in Ortigas.
Before this one, my bazaar-selling experiences were limited to school fairs and local community events. It was fairly easy to sell my products back then because more than half of the expected visitors would be people I know.
But this time, I ventured into something a bit different and tried to see if I can do well in a big commercial bazaar such as this one. That's why I made sure I remember all the tips that I gave in my past article on how to sell effectively during bazaars and trade fairs.
Anyway, I met the organizers of the bazaar through a friend a few months ago. I learned that it was the company's first time to organize such an event. I talked to the project head and asked if they are open for ex-deals. I proposed that I will promote their bazaar online in exchange for a booth. They happily agreed.
What to sell

Now that I had myself a stall, my next task was to come up with the products. In the past, I usually just sell my friend's baked goodies in bazaars. However this time, I decided to add some home decors because I think it complements the profile of the event's target market.
To find a supplier for the home gifts, I went to Paete, Laguna – a local hub of great wood crafts. After almost a day of scouring the place, I was able to find a supplier who was willing to consign items to me for the bazaar. Here are some shots of me at the production warehouse.
Bazaar Day

After preparing my logistics and other necessary details, I'm now ready for the bazaar. While waiting for the event date, I forwarded inquiries from interested concessionaires to the bazaar committee head and likewise helped in promoting the event to my online contacts.
Finally, the day of the event came and I went to the venue early to set up my booth. Here's a glimpse of my space and my wares: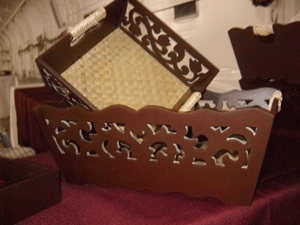 The shoppers started to come around lunch, most of them were families on their way to the malls. In the afternoon, the crowd became a bit thinner and I was able to have some time to go around and look at the other booths.
Here's a picture of me at the Pinoy Money Talk Multi-Purpose Cooperative snack stall with Dione and her staff. Their siomai was a crowd favorite that day.
Adapting to the situation

At the end of the first day, I realized that the bazaar was not drawing the crowd volume it has expected. Although I was optimistic that the second day would be better, I prepared some marketing strategies to boost my sales.
First, I decided to peddle my revel bars around. I put them on one of my trays and asked my staff if she could go around the bazaar and sell them to the shoppers and merchants. This plan went really well.
Furthermore, there was one particular stall in the bazaar that was selling imported canned and bottled goods. I noticed that the shop keeper was selling a lot of her items to the bazaar crowd.
I approached her and asked if she would like to use my products and make a gift tray. I consigned some of my stocks to her and she began selling her wares as a package by using my trays. This plan was another success.
Overall, the bazaar went really well for me despite the less than expected volume of shoppers that came. If you think about it, the capital I invested for this event was really small because I had the booth for free, and the home decors was on consignment.
Additionally, I was able to get personal contacts who are interested in ordering my lamps and trays as Christmas gifts in the next couple of weeks. Suffice to say, my bazaar experience was a personal success.
How about you? Anong raket mo ngayong Pasko?
Learn more business lessons and other money making tips by subscribing to Ready To Be Rich.