Updated: September 24, 2014
"What are you going to do in Leyte?" asked a friend.
"I'm going to attend the Pintados Kasadyaan Festival in Tacloban," I answered.
"That's nice. Don't forget to see the San Juanico Bridge!"
"Of course, that's part of the plan," I replied.
And actually, that's the only other part of the plan. Call me naive but I don't really know much about Tacloban or Leyte except that it's where the Pintados Kasadyaan Festival is held and it's where you can see the longest bridge in the Philippines.
Historically of course, I knew it was where General Douglas MacArthur landed when he returned to the Philippines in WWII and it's also the home province of Imelda Marcos – but aside from that, there isn't much else I knew about the province.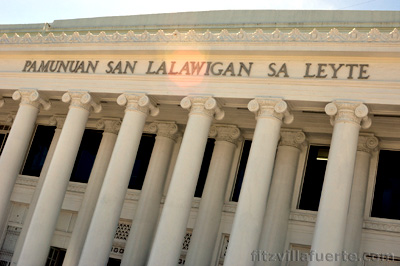 Fortunately, I was able to meet Sir Gerry and Ma'am Ludette Ruiz – Tacloban entrepreneurs who runs the Leyte Gulf Travel and Tours. Because of them, I was able to discover the many things that Leyte has to offer and so much more.
Together with Patrick Steven Buena of the Leyte Provincial Tourism Office, I saw and learned about the local attractions in the city such as the Leyte Park Hotel, the Madonna Shrine, the Sto. Niño Church, the Price Mansion and the Sto. Niño Shrine and Heritage Museum.
Just outside the city proper, I also got to visit the MacArthur Memorial Shrine in Palo, the San Juanico Bridge in Cabalawan and the Rafael Farm in Babatngon.
This was just the Sudoy ha Leyte tour, one of the basic packages that Sir Gerry and Ma'am Ludette offer. If I had more time (and courage), I would have also taken their Leyte and Samar rediscovery tours which would bring me to more scenic and historical places in Eastern Visayas.
Adventure seekers and nature photographers will surely enjoy surfing, spelunking, hiking, camping and many other eco-tourism activities that the region has to offer.
But of course, the best time to go to Tacloban is in the last week of June, so you can attend the Pintados Kasadyaan Festival.
Thinking back to my Leyte vacation, I realized that three things struck me most.
First, I was pleasantly surprised to discover that Tacloban is a highly-urbanized city. There are many great restaurants and coffee shops where you can eat and hangout with friends. And a bustling city nightlife where one can drink, dine and have fun.
Second, this vacation has encouraged me to give the lesser known cities in the country a second-look. I didn't expect to enjoy this much in Tacloban – and I'm sure there are other local destinations that can offer as much.
With air fare promos and plane seat sales regularly being offered by local airlines, going to these provinces can be very budget-friendly. Add to that the fact that the cost of food and accommodation are relatively cheaper in these cities than in Manila.
Third, and perhaps the most important realization I had in Tacloban. Is how passion plays a truly essential role in making a business successful.
Sir Gerry and Ma'am Ludette runs several businesses in Tacloban. They've been successful entrepreneurs for more than a decade already.
Aside from their tourism business, they also have a restaurant bar and an events production enterprise. Businesses that reflect their pride for Leyte, their penchant for meeting people and their love for photography.
So now you know where I've been for the past week – I was having a grand time in Tacloban. 😀
Many thanks to Eric and Don for being good travel companions and a special shoutout to Sir Gerry Ruiz and his very hospitable wife, Ma'am Ludette Ruiz for making our vacation truly memorable.
Leyte Gulf Travel and Tours c/o Calle Zaragosa
Independencia St., Tacloban City, Leyte 6500, Philippines
Tel. No: +6353.321.7966
Fax: +6353.523.7966
—