I would like to take this opportunity to invite you, my readers, to participate in the upcoming WordCamp Philippines 2008. It will be held on September 6 at the College of St. Benilde along Taft Avenue, Manila. This is the first WordCamp to be held in Southeast Asia so make sure you become part of this important event.
What is this all about and what can you expect when you attend?
First of all, WordCamp is the premier event for WordPress users and developers. If you must know, WordPress is said to be the leading blogging platform in the world today. So if you've always wanted to learn how to become a blogger, then this event is for you. Actually, everyone is invited, even bloggers who don't use WP as their platform.
The event promises to teach you a lot of things about WordPress and more importantly, give you a chance to meet bloggers from all over the country. Despite the physical distance, the Filipino blogging community has become closer, stronger and bigger through the years. Engaging yourself within this social network will surely open for you windows of opportunity to earn and make money online. After all, some of the people attending are probloggers who earn as much as $1,000 a month.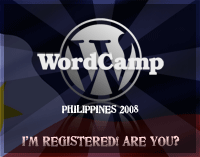 I've already registered and I hope that you do too. Visit the official site of WordCamp Philippines 2008 and sign yourself up.
This event will not be possible without the admirable efforts from the Mindanao Bloggers and the support of the following sponsors:
Free Online Flash Games
Lane Systems Inc.
RedMedia