Updated: August 14, 2023
The global landscape is constantly evolving when it comes to consumer behavior and expectations. Digital access to products and services is becoming not simply a matter of convenience but a standard requirement for discerning consumers.
Fintechs are rising to the challenge in response to customers clamoring for user-first digital financial services. Alongside the readiness of millennials to embrace digital finance is also the need for guidance on how to invest their hard-earned money and build their wealth while managing their risk.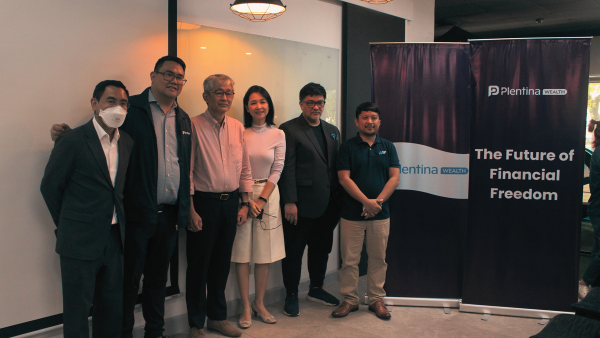 Plentina Financial Inc., a Silicon Valley-based Filipino-led fintech company, is responding to this need by building Plentina Wealth, a robo-advisor investment platform. Users will enjoy a fully digital experience–on the web-based platform, they will be able to set up their global brokerage account and get a personalized investment portfolio aligned with their financial goals and risk tolerance.
While the service will initially be available in the U.S. only, Plentina submitted its Letter of Intent in June 2023 to the Philippines SEC to register a similar investment advisory service and aims to launch in the country once it receives the necessary approvals.
Last August 9, 2023, the concept for the Philippine robo-advisory platform was showcased by Plentina at QBO Innovation Hub in Makati. Aptly titled "Tech Meets Wealth: The Future of Financial Freedom," the event was an opportunity for attendees not only to get the latest exciting developments from the Plentina Wealth team but also to gain insights from industry experts and leaders on the far-reaching implications of technology and artificial intelligence on our future.
The program was opened by Kevin Gabayan, Plentina's Co-founder and Chief Executive Officer, who shared with the audience the mission of Plentina to unlock better opportunities for Filipinos, his own personal investment journey, and the crucial role of technology in sustainable and successful wealth creation.
The event's featured guest speaker was Dominic Ligot, Founder, CEO and CTO of CirroLytix Research Services, a social impact artificial intelligence company. Mr. Ligot shared with the audience expert insights on the latest applications of artificial intelligence and generative AI across industries and the role technology will play in creating a better future for the Philippines.
Mr. Ligot's talk was followed by a panel discussion on the ripple effects of artificial intelligence and the responsibility of various stakeholders. The panel speakers were Michelle Alarcon, President of Analytics Association of the Philippines, and Rolly Miniano, a solutions architect from Amazon Web Services. The panel was moderated by Rose Concepcion, Plentina's Director for Operations.
Following the panel, Earl Valencia, Co-founder and Chief Business Officer of Plentina shared more about the vision of Plentina to be at the forefront of disruption and innovation in wealth management, highlighting the demand for a wealth management service that is digital and accessible to more people outside the markets served by traditional wealth management firms.
The highlight of the program was the product demonstration of the Plentina Wealth platform and algorithm, showcasing how the robo-advisor seamlessly generates the optimal diversified portfolio for a user based on their risk tolerance and goals, removing the friction and guesswork that comes with stock investing, and making it possible for users with limited investment experience to begin building their wealth instantly. The demonstration was led by Gabby Guiao, Plentina's Product Manager, and Kenley Tan, Plentina's Director for Data Science.
Following the product demonstration, Kat Valencia, Plentina's Customer Retention Head, shared the team's plans to launch financial education content and other campaigns alongside their robo-advisory platform to ensure that Filipinos are well guided on their investment journeys.
The program ended with a founder's sharing session that enabled the audience to learn more about the Plentina Wealth platform and about the Plentina team's plans to empower their customers to harness technology to build their wealth and achieve financial freedom.
This is a press release.
What to do next: Click here to subscribe to our FREE newsletter.