Updated: July 8, 2010
Thinking of franchising a business? Then check out the best franchise business in the country below.
Last July 6, the 2010 Franchise Awards of ENTREPRENEUR Philippines was held at the A. Venue Hotel Suites in Makati. I was fortunate to be able to attend the event and witness the top franchise companies in the Philippines receive honors for several franchising categories.
Entrepreneur magazine editor-in-chief Leah del Castillo says, "These are the companies that have weathered economic crises not only because of the mettle of the men and women comprising them, but also because of the very business systems they follow."
So if you're thinking of getting or buying a franchise, then you might as well consider these successful and promising businesses:
Best Homegrown Franchises
Fastest Growing Franchises
AMA Computer Learning Center
Bread and Butter
Bread and Butter
Aquabest
Binalot
Pizza Pedrico's
Goldilocks
Kumon
Pizza Pedrico's
Lots'A Pizza
Lots'A Pizza
Bibingkinitan
PR Gaz
7-Eleven
SEAOIL
Ministop
Waffle Time
Waffle Time
Ystilo Salon
Ystilo Salon
Most Promising Franchises
Best In Franchising Support
AMA Computer Learning Center
Animaland
Animaland
Bread and Butter
Bread and Butter
Aquabest
Goldilocks
Inks & Prints
Aquabest
Pizza Pedrico's
Lots'A Pizza
Lots'A Pizza
Ministop
Orange Blush Salon
Orange Blush Salon
The Generics Pharmacy
The Generics Pharmacy
Bibingkinitan
Ystilo Salon
7-Eleven
Aside from these, Entrepreneur Magazine also gave the Best Foreign Franchises award to Kumon, Ministop and 7-Eleven.
I was too lazy to bring a camera that night, or I would have taken a picture of me with actress Vina Morales, who received the award for Ystilo Salon. Hehe.
Nevertheless, it was also nice to spend a few moments talking to Mr. Rommel Juan of Binalot, whom I first met during my visit to The DAHON Community.
So now you know the best franchise businesses in the Philippines… what's next then?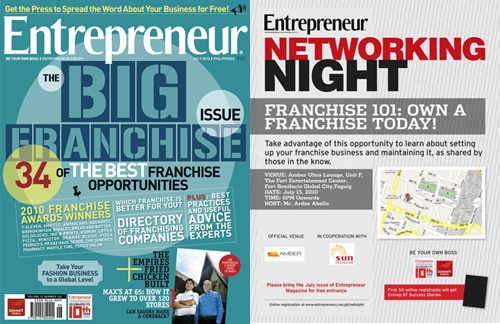 First you can buy a copy of the July 2010 issue of Entrepreneur Philippines – it's the Big Franchise Issue which highlights the success stories of the winners and other inspiring lessons from other franchise businesses.
And then… you can attend the Entrepreneur Networking Night on July 13. Just bring a copy of the said July 2010 issue and you will get in for FREE!
No time to buy one? Don't worry because they'll be selling the magazine at the registration booth. 😀
Why would you want to attend the Entrepreneur Networking Night?
Because I'll be there! 😛
But aside from that, it's also a great chance to learn more about Franchising right from the very people who achieved success through it. And more importantly, it's a great opportunity to expand your business network.
You know what they say – it's not really what you know, but WHO you know.
The Entrepreneur Networking Night will be held at the Amber Ultra Lounge, Unit F, The Fort Entertainment Center, Fort Bonifacio Global City, Taguig on July 13 from 6:00 PM onwards.