Updated: June 26, 2022
I've always been fascinated with silkscreen printing since I was a kid. And maybe that was the reason why I eventually got myself into the t-shirt printing business.
It's not a big operation. And I mainly cater to special consignment orders from novelty stores and student organizations. But the income has been enough to give me satisfactory income.
Today, I'm sharing with you some quick tips on how to start your own t-shirt printing business. It's not as comprehensive as I want it to be, but it's enough to give you an idea of what you need to do.
Step 1: Decide the method of printing you will use.
This is an important step because it will dictate your startup capital, and influence a large part of your business planning. Currently, there are three methods of t-shirt printing you can utilize.
Screen Printing
A traditional technique that makes use of a mesh stencil, blade, or squeegee to transfer the ink to a t-shirt. Because it only prints one color at a time, it may not prove to be cost-effective when creating designs that require 4 or more colors, which leads to longer production time.
Direct to Garment (DTG)
Utilizing ink-jet technology, DTG is a digital printing process where inkjet textile inks are applied directly and absorbed by the fibers of the shirt. Unlike screen printing, it can produce full-quality color images. The downside is it requires more capital which may range from P11,000 to P700,000.
Heat Transfer
The middle choice of the other two, it uses high-quality heat transfer paper to which it can create full-colored designs, especially a commercial heat press that allows you to receive multiple orders from clients. A heat transfer machine may cost you anywhere from P8,000 to P10,000.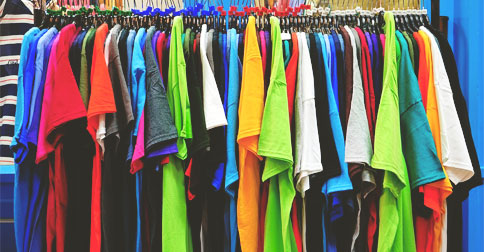 Step 2: Prepare your required capital.
Depending on the kinds of equipment, the size of your business lot, the number of your staff, and the start-up capital you need will vary.
If you are under budget, consider establishing your business at home to save expenses from exorbitant rental fees.
Your investment will then only include the equipment needed for t-shirt printing, a computer, printer, scanner, fax machine, image editing software, and a telephone line (for customer inquiries).
If you plan to have meetings with your clients in person, consider investing in desks and chairs for your home office. Or perhaps meet them in your client's office instead.
Also, investing in quality materials can save you more than it is ordering cheaply-made fabrics.
For Direct-to-Garment, you will need high-quality inks.
For screen printing, you will need materials such as a screen fabric, aluminum or wood frame, and screen printing inks. Also, some emulsion chemical and remover, screen printing inks, squeegee bar, exposing unit, a pressurized hose, and emulsion rack.
For heat transfer, use only high-quality heat transfer paper.
Step 3: Evaluate and assess a profitable location.
The most important aspect of the location of your business is its visibility and accessibility to a customer. Adopting signage that emphasizes the name of your business as well as what it is can attract prospects.
But it is also possible to base it inside your home. However, this would require you to make an extra effort in your sales and marketing. This is where social media can help enormously to get you orders.
Step 4: Register your business.
The best profits from a shirt-printing business come from bulk orders. If you're not a legally registered entity, then it would be hard to get orders from organizations and other businesses.
For sole proprietorships and partnerships, you can register with the Department of Trade and Industry (DTI). For corporations, you must register with the Securities and Exchange Commission (SEC).
Once registered, acquire a barangay clearance in the city where your business is located at, along with the mayor's permit and BIR certificate.
Step 5: Build a workforce.
My business partner and I did most of the work during our startup days. But now, we have people who do the work for us, especially the printing itself.
Once you've learned how the business should run, it's time to duplicate yourself and hire staff to scale your operations. You can start by getting daily workers, and eventually promote them to regular employees.
Final Tips
If you're serious about putting up a t-shirt printing business, then I highly recommend attending a seminar or workshop. Most printing suppliers provide classes at a minimum cost.
Also, if you're looking for shirt suppliers and you're based in Metro Manila, then check out Juan Luna St. in Divisoria. It's a great place to buy them in bulk.
Lastly, remember that shirts are bought because of their quality and design. So it's important to know who your target market is, so you can satisfy their exact needs when it comes to buying a shirt.
What to do next: Click here to subscribe to our FREE newsletter.