Updated: December 11, 2021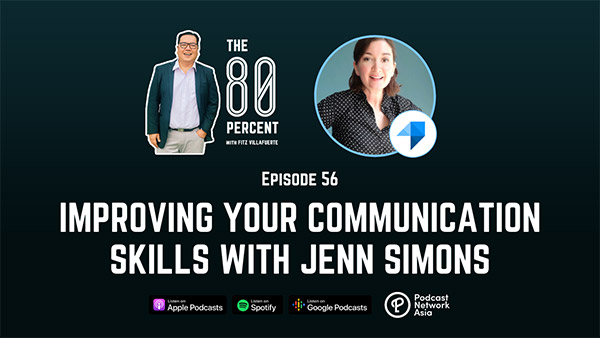 Listen to Episode 56:
Episode Sponsor:
Flint PH
Invest in Philippine real estate for as low as P1,000. Sign up with Flint here and earn from the first, tech-enabled low-cost Philippine real estate crowdfunding platform. Flint is open to anyone at any time, even to those who are based outside the Philippines.
Podmetrics
Discover the easiest way to monetize your podcast with Podmetrics.co. Use 80PERCENT as referral code and get a FREE copy of an ebook entitled, "How to Make Money From Your Podcast Even If You Have Less Than 1,000 Listeners".
Episode 56 Chapters:
01:10: Uploan
06:12: Toastmasters
07:24: Importance of Communication Skills
09:45: Confidence and Communication
11:52: Children as Communicators
13:46: PREP Strategy
17:03: Episode Break
19:00: Tips for Public Speaking
22:00: Asking Your Boss for a Raise
28:05: Financial Conversations
34:53: The Level Up! podcast
Excerpts and Highlights:
"Communication is such a powerful tool. Communication is one of those things you can apply to everything in your life. There are so many benefits to being a good communicator because it's basically how we understand each other." –Jenn Simons
"Communication is a skill that you can build on. There are tangible ways and steps that will make you a more effective communicator." –Jenn Simons
The ability to communicate information accurately, clearly, and as intended, is a vital life skill and something that should not be overlooked.
Check out The Level Up! podcast here.
Ask me a question for the podcast: Send a voice message here.
Like and Subscribe to The 80 Percent Podcast: