Updated: August 28, 2023
Last year, I shared about an email copywriting program called Email Underground Intensive. It is an 8-week program that teaches Filipinos how to earn a full-time income from writing simple emails.
Well, it's that time of the year again that they open doors for their 6th Batch so I'm writing an updated review for it.
Overall this post is for those who are looking for ways to increase their income online, this time via writing simple emails. Or if you've been waiting for this since the last time it opened its doors then hopefully this article helps in helping you make a decision.
CHECK OUT THE EUI WEBSITE HERE
The Founders
Email Underground Intensive or EUI is a program created by two world-class Filipino copywriters, John Pagulayan and Allan Ngo.
To quickly introduce the two, John owns a 7-figure email marketing agency and generates tens of millions of dollars each year for his clients by writing their emails. He's also a marketing expert helping folks abroad scale their online businesses to six figures and beyond.
Meanwhile, Allan is a sought-after resource person on email marketing here in the Philippines and other countries. He's also an award-winning affiliate marketer and competed in multiple affiliate launches with giants in the email marketing industry.
These two really walk the talk, yet they don't consider themselves anyone special. Because before they got started years ago, they admit that they weren't writers by profession. They aren't experts. And they know zero about marketing at all.
But here they are now. Together, John & Allan created this 8-week writing program to teach ordinary Filipinos how to earn a full-time living from writing simple emails and give them a fighting chance to live the life they deserve.
They always believe that given the opportunity, anyone can do what they do and more.
Now that we know who the founders are, let's cover all you need to know about the program.
Do You Only Need 6th Grade Level English?
At the top of their course page, it says "If You Can Write English at a 6th Grade Level… You can have a Reliable and Lucrative Writing Income Online"
It is a bold claim.
However, both of them 'proved it' in a 4.25-hr webinar held last August 25, 2023 where they taught attendees with little to no experience to write emails worth PHP4,000,000 minimum in just under 5 minutes.
During the webinar, they provided templates and scripts on what to send to business owners so that they would earn as an email copywriter. They encouraged the attendees to try it out, and below were some of the things that happened.
From sending out the emails:

To people receiving replies during the webinar:

Multiple people can't believe what they just experienced. And how they were able to do it was simply following the scripts and templates John & Allan provided.
But is 6th Grade Level English and their frameworks all you need to write emails for a living?
John & Allan are direct with their honest answer.
They emphasize action and implementation. During the webinar, they guided everyone on each step and answered their concerns patiently. They were extremely supportive of all attendees, even though they're not even their students yet. So it's no surprise that John & Allan will go all out and be there for their students as long as they also do the work.
If you want to learn more about it yourself, you can check out the replay of the webinar here. It's available to watch until August 30, 2023 only.
CLICK HERE TO WATCH THE WEBINAR REPLAY
What Do You Get When You Enroll In Their Program?
Their enrollment page states:
"They will take YOU from being a total noob to an email rockstar in just 8 weeks… Giving you the fastest path to having a steady and profitable writing income online.
This lays out the A-Z blueprint you'll need to use email for your business. And you'll be walked through step-by-step so you don't have to do any guesswork.
It's delivered workshop-style so you can implement what you learn right away — building a competitive portfolio you can use while learning at the same time.
There's weekly implementation and client-getting assignments. After every lesson, you'll be given writing assignments so you don't get stuck with theory and knowledge. You also get real writing experience.
And your submissions for the assignments… you can actually use exactly what you wrote to land yourself clients in the real world!
By the end of 8 weeks, you'll be able to provide any — and all — email needs a client might have.
You'll be a true​ email master after this. Of course, provided you've completed the lessons, did the assignments, and left no stone unturned, you'll be able to tackle anything email-related with ease."
Once again, it's a bold promise, but to this day, the program has produced many success stories. There was no 'drought' of testimonials to feature just like these students, who wrote emails that already generated over PHP1,000,000 in revenue. They are awarded with plaques to recognize and remember the fruits of their labor.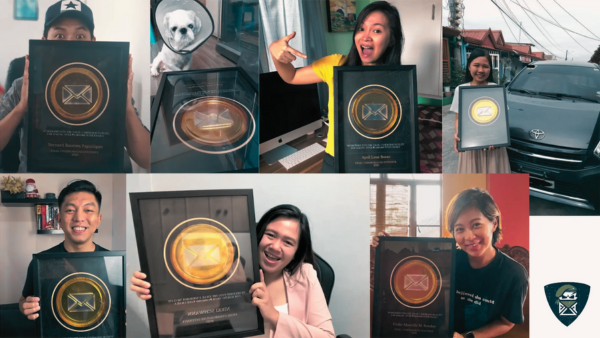 For full transparency, I'm not a student of Email Underground Intensive. However, I also believe that the success or legitimacy of any program is if it actually delivers the promises it claims on its marketing pages.
And this program surely over delivers, backed up with countless testimonials anyone can read on their program details page.
CLICK HERE FOR COMPLETE PROGRAM DETAILS
When & How Can You Enroll?
Enrollment is only available until this Friday, Sept 1, 2023, 11:59 pm.
The tuition is P10,000 and there's also a 2-pay option of P5,750.
You get access to the entire 8-weeks of training, plus LIFETIME access afterwards to any bonuses and future lessons they come up with.
CLICK HERE FOR THE ENROLLMENT PAGE
Is There a Money Back Guarantee?
YES! The program offers a 30-day no-questions-asked money-back guarantee.
This is also one of the reasons why I admire John & Allan and will gladly share their program. Because they "put their money where their mouth is" by providing a no-risk guarantee to those who want to simply try it out.
Who Is This For?
I believe this is for anyone looking to increase their active income whether full-time or part-time, from the comfort of their homes.
Any experience of being a 'freelancer' or 'writer' will likely be an advantage however will not be necessary.
Having a computer and a decent internet connection will be a must as you will be interacting with clients virtually.
Lastly, I want to emphasize the value of the 30-day money-back guarantee. This is a way for anyone to try out the program from the inside to see if it is for you. You can consider it a risk-free investment.
If you find yourself unsatisfied (for any reason) or you think it's not worth at least ten (10) times your investment, John or Allan will personally give you a full refund, no questions asked.
To Enroll & Learn More About Email Underground Intensive, CLICK HERE.