Updated: July 26, 2021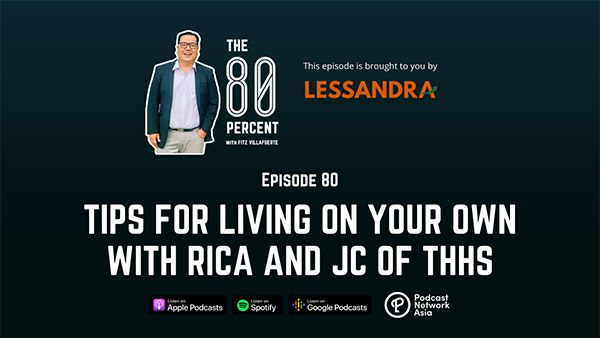 Listen to this episode:
Episode Sponsor:
This episode is brought to you by Lessandra, a reputable housing brand from the most-trusted real estate developer, Vista Land. To know more about Lessandra, visit lessandra.com.ph and their Facebook Page @LessandraOfficial today.
What you'll hear in this episode:
It's an hour of conversation with Rica and JC, the hosts of The Halo-Halo Show podcast. We talked about the benefits, challenges, and lessons we learned from living independently.
We touched on how to find the best location, the top 3 appliances that you need to have, how to cope with loneliness, and so much more.
Listen to our stories and anecdotes and learn valuable tips on how to make living on your own work for you.
Quotable Quotes:
"This was all a dream when you were in highschool… to have your own space. Acknowledge that you actually made that decision. It makes me a little happy when I acknowledge it. It's like — 'Dude, you're here!'" –Rica G
"You're the main character of your own show. You've gone through seasons and episodes of living at home, but now this is a new chapter that you can fill with experiences, with memories." –JC Tevez
Ask me a question for the podcast: Send a voice message here.
Please follow The 80 Percent Podcast: