Updated: September 1, 2023
There are two types of income, active and passive.
In simple terms, active income is when you work for the money, while passive income is when money works for you.
These are the most popular terms used in financial books and articles. And, of course, it's always emphasized that you should build passive income if you want to become rich.
However, there are alternate terms for these two types of income, which I like better – linear income and residual income.
Active income is a linear type of income. You work, then you get paid, and then the process stops.
Meanwhile, passive or residual income is when you work, then you get paid, and the process can repeat itself, which allows you to get paid over and over again.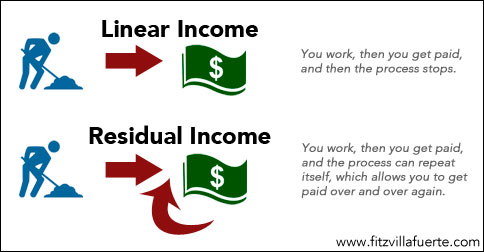 I like this concept of income better because it's a more realistic definition.
Having a job or being a freelancer earns linear income. You get paid only once for the work that you do.
Meanwhile, having investments or owning a business earns residual income. You only need to work once, and you can get paid for your efforts again and again.
By remembering this, I can now ask myself if a particular work is worth doing, and it helps me prioritize the ones that will bring me residual income.
Early this year, I decreased the seminars and workshops that I conduct; and then increased the time I spend growing my existing businesses.
Holding seminars and workshops is a linear income for me. It's a one-time income deal.
However, by focusing on my current businesses, I'm creating residual income because the work I'll exert will bring cash to my pocket over and over again without any more work required on my part later on.
I'm not saying that active or linear income is bad and should be avoided. What I'm trying to say here is that if you were given a choice, choosing work that produces residual income should have more weight in your consideration.
Different Sources of Residual Income
Do you want to increase your residual income? Here are some of the things you can work on:
Royalty income from intellectual properties as an inventor, author, etc.
Portfolio income from paper investments such as stocks, mutual funds, etc.
Rental income from real estate properties
Sales and dividend income from businesses
If all you have right now are linear types of income, then it may be time for you to create sources of passive or residual income because this is the fastest way to become financially free.
What to do next: Click here to subscribe to our FREE newsletter.