Updated: May 26, 2022
So, you've come across an investment property that you believe has great potential? Good for you. Flipping real estate is a great investment opportunity that can pay off big if you do it right. Setting yourself up for success will require some work on your end as you are likely purchasing a foreclosed property that has seen better days.
The good news is that there are many different add-ons and improvements you can make around the house to make it more appealing to buyers. To appeal to the masses, you will need to make a great first impression inside and out. To help you out, we have compiled a list of great components that you can add to your property to make it ready come sales time.
Curb Appeal
If you are looking to make more money off of your property and get potential buyers in the door, you have to start with the exterior of the home. Curb appeal is everything because if people don't like what they see outside, they are very unlikely to venture inside. Real estate experts say that homes with an attractive exterior can be worth 5-11% more than those that are less appealing. At a minimum, you need to go around the home and fix any cosmetic issues, including repairing any missing siding and broken brickwork and power washing the outside to make it bright and clean.
Next, you want to add some features that are proven to increase home value. For instance, having trees in the yard can make a big difference in the return on investment you could see. Not only are well-kept trees beautiful as the seasons change, but they can also provide shade over the home, which could reduce air conditioning costs. Homebuyers also like the idea of having a fence around the yard to provide desired privacy. Go for a white picket fence rather than a chain-link fence, which may turn people off.
From here, you can add even more practical items that could make a big difference, like putting security lights near the front door and path lighting along the driveway. Choose unique fixtures that will look great but that also provide a sense of security for the potential buyer. Also, if the home doesn't already have one, think about creating a seating area for entertaining. Add some extra bells and whistles like a built-in BBQ pit to make the area pop.
Alter Your Rooms
Once you move inside, you need to consider the layout and design of the home and make some modern updates. Open floor plans are very desirable these days, so if you have the option, consider tearing down the wall that separates the kitchen from the living room to create a more inclusive space. Before you get started, bring in a contractor to ensure that the wall isn't load-bearing or otherwise essential to the structure of the house.
In addition to combining spaces, also consider making new rooms for the home that will appeal to a mass audience. For example, you might add an additional bathroom to the master bedroom or split a room in two to make a home office. If your house has a driveway where you can park the cars, consider turning the garage into a bedroom. To make this new room as functional as possible, have the walls insulated and raise the floor height so insulation can be put between the concrete ground and the floor of the room. Also, consider adding windows if the garage doesn't already have them.
This may also be a good time to update the heating and air conditioning systems throughout the house. Have an inspector come in and verify that the current setup is working at maximum efficiency. If the home uses old tech like window units, consider adding in a whole new system. You can also make the home more sustainable by adding a smart thermostat that will turn on and off at predetermined times to avoid excess waste. Also, consider adding solar panels for the ultimate green home.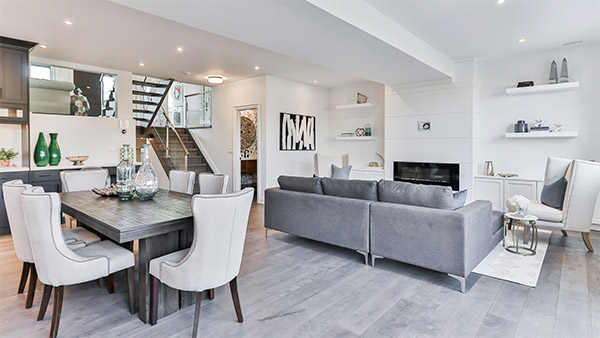 Improve the Rooms
Now that you have your rooms in place, go around the home and improve them however you can to create the most appealing spaces possible. Before you start decorating, you'll want to have a plan in order. To do that, think about your design type. Do you enjoy classic looks or are you more the transitional type? Sometimes it may not be about what you like but what is popular. Right now, mid-century design is all the rage.
Make the most out of every square foot you can by adding storage areas in unique places like the space under the stairs and concealed nooks in corridors. In the kitchen, consider adding more cabinets above the sinks and on empty walls. People like to have a place for everything so they can avoid clutter.
Speaking of the kitchen, this is the most popular room of the house, so put extra time and effort into making it great. Update the appliances to high-efficiency, sustainable, stainless steel models and have all the devices match to create that cohesive look. Also, replace the hardware and handles on your cabinets and replace any doors that have seen better days. If the kitchen sink and faucet are outdated, consider changing these out as well, with an eye on models that are attractive and functional.
The bathrooms are also important to buyers, so spend some time improving these as well. If it has been a while, update the tile, lighting, and tub to create a more modern look. For larger bathrooms, consider adding twin sinks, which are very appealing to larger families or couples who appreciate the extra space.
If you can incorporate at least a few of these ideas into your newly acquired property, then you will have a leg up over the competition. Take pride in your improvements, and buyers will be excited to make the big offer.
This article is written and contributed by Dan Matthews.
What to do next: Click here to subscribe to our FREE newsletter.