Updated: August 12, 2020
The food business remains as one of the top industries that entrepreneurs consider highly profitable. After all, food is a basic necessity; and with that stable market comes good earning potential.
However, the food business is also a very competitive market. Your delicious offerings alone would not be enough to deliver business success.
One needs more than great tasting food, but likewise, a good location, sensible marketing, and many other factors which also includes reasonable pricing.
If you want to sell food, how do you determine your selling price? What is the right pricing strategy so that you can give your consumers an affordable product with optimum profits?
Again, there are many factors to consider. But the most basic strategy is to come up with the costing template for your recipes. From there, you can easily determine and adjust your retail price that will fit your target market without compromising your income.
So how do you make a costing template for your food recipes? Here's a five-step product pricing plan.
Step 1
Write down your recipe, including all the ingredients and their quantities, as well as the average yield. It helps to convert the quantity to measurable equivalents.
Step 2
Determine the price of each ingredient and calculate the cost per recipe. Simply divide the ingredient price by the total volume and multiply it by the equivalent measure in your recipe.
Example:
375 ml of cooking oil costs P20. So P20 divided by 375 ml multiplied by 30 ml (from the recipe) equals P1.60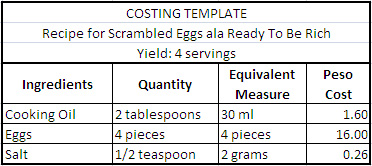 Step 3
Add up the total cost of the ingredients per recipe to determine the total recipe cost.
In our example, the total food recipe cost would be P17.86
Step 4
Divide the total recipe cost by the total yield to get the cost per serving.
Since our recipe example will yield 4 servings, then our cost per serving will be P17.86 divided by 4 which is equal to P4.47
Step 5
Now add your mark-up to the cost per serving. If we'll follow the simple pricing strategy I wrote before, then this would be considered as a make-and-sell item that requires 130% profit margin.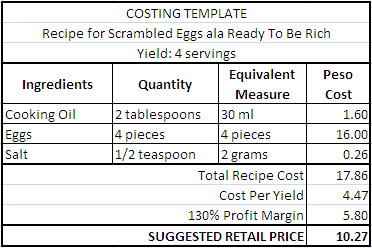 So from our costing template example, one order of scrambled eggs in my food business would cost P10.27 (or I can round it up to P10.50 😛 ).
What is the basis of the 130% profit margin?
It's just best practice as told to me by friends who are in the food cart business. They say that the "100%" covers for the production cost and the "30%" is your product cost mark-up. I believe that there's no economic basis for that figure.
And of course, this is just one of the many pricing strategies you can do. After all, there are still other factors and business expenses to consider.
Nevertheless, this very simple pricing strategy can be effective when you're just starting – such cases as when you're simply selling food to your officemates or maybe participating in a food bazaar or just selling online from home.
And that concludes our short business tip for today. I hope I was able to help you come up with a good pricing strategy for your food business. Catch the next business article here by subscribing to Ready To Be Rich.
What to do next: Click here to subscribe to our FREE newsletter.