Updated: January 17, 2022
A week before the 11.11 sale, I did an online poll with my friends asking where they prefer to shop more: Lazada or Shopee. The results were surprising to me because I expected the votes to be almost equally split but Shopee got 80% of the votes.
Personally, I don't have a preference. I usually search both platforms for the item I'm looking for and buy where it's either cheaper or if I need it urgently, where the delivery time is faster. But doing the poll got me thinking about my online purchases and wondering where do I tend to shop more.
It turns out that I do buy more from Shopee. However, while I've bought more items in Shopee, I noticed that I've spent more on Lazada. It seems that for expensive items like that air fryer and HD webcam that I needed last year, I tend to buy in Lazada. But for smaller and cheaper items such as a soap dispenser, oximeter, and ring light, I end up buying them in Shopee.
This realization piqued my curiosity about the two biggest online shopping platforms in the Philippines. Are they simply two versions of the same thing or do they have significant differences? And more importantly, for the consumer, which one offers the better shopping experience? I checked and compared, and this is what I found out.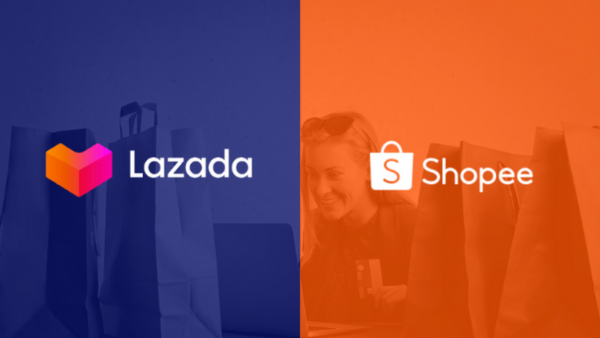 The Company
Lazada and Shopee both have headquarters in Singapore and mainly operate in the Southeast Asian Region. Interestingly, Lazada has more active users in the Philippines but Shopee has more active users overall in Southeast Asia. However, Shopee receives around 73 million web visits, which is almost twice bigger than Lazada's online traffic.
The popularity of a shopping platform has its pros and cons, but it generally benefits the consumer by attracting many businesses to sell through them and thus providing more choices and a variety of products.
If a company fails to keep up with the demand from users, then that's when problems and issues arise. We'll mention some of these later for both platforms.
User Experience
A platform or app won't last long if it's difficult to use. Tech startups hire user experience engineers to precisely avoid, or at least minimize this problem. As for Lazada and Shopee, which one is easier and less confusing to use?
Their websites have a similar layout and are user-friendly, perhaps because online marketplace templates have already been optimized by web designers through the years. Shopping and checkout are also efficient for both websites. My friends and I agree though that Lazada's layout seems to be less cluttered and easier to the eyes than Shopee's website.
Most of our online shopping experience in Lazada and Shopee is done through the app. In fact, there are mobile-only deals and promos for both apps. And in this aspect, Lazada has the upper hand which is noticeably faster and easier to navigate.
One particular feature that I like in Lazada is that the Review section for listings can be easily accessed at the menu that appears on top of the screen when you scroll down a bit. For Shopee, you'll have to scroll all the way down to the section.
This may not be a big deal for some, but I've had my fair share of experience in receiving low-quality and fake items from both platforms. Thus, the review and feedback section is now my first go-to section before I even read through the product information and other details.
Variety of Products
I can only assume that you can buy almost anything from both platforms, at least anything that you can legally purchase online. The two giants carry millions of products, which makes it almost a default for anyone to compare listings on both apps to see where it's cheaper and faster in delivery.
Lazada has LazMall while Shopee has Shopee Mall, where products from reputable stores and brands are listed. From my observation, Lazada seems to have more accredited big brand stores and suppliers, while Shopee has more small suppliers and home-based sellers.
Moreover, I've noticed that there are more wholesalers in Shopee than in Lazada. Additionally, there are several second-hand or pre-loved items being sold in Shopee, which is something that I have yet to see in Lazada.
Price Comparison
The lure of shopping online is not only because it's convenient, but because it's often more affordable than buying the item at the mall. And the consensus among my friends is that Shopee offers lower prices than Lazada.
Shopee has a Lowest Price Guaranteed feature, which lives up to its name. And true to its reputation of being an "online Divisoria", I've seen people haggle with sellers through the chat section.
However, I think the biggest reason why Shopee listings end up cheaper is because of the Shopee coins, which can be used like cash as compared to Lazada's coins which can only be used to get vouchers and discounts. This was the reason why I made an effort to regularly play during their Live Quiz shows and win Shopee coins.
Furthermore, when it comes to sales and promos, it's hard to compare which one has better deals, but it's notable to mention that Shopee has been giving a lot of free shipping offers since the pandemic started.
Payment Options
Both platforms have an in-store e-wallet, which you can top up through various methods. They also both offer Cash-On-Delivery and Gcash as payment options. As of writing, only Shopee accepts Coins.ph as a payment method, while only Lazada accepts JCB and American Express credit and debit cards. Meanwhile, you can use Mastercard and Visa cards on both sites but for Shopee, this is limited to Preferred and Shopee Mall shops.
Nevertheless, Shopee offers more payment methods than Lazada, which includes paying through online banking (BPI, Unionbank, etc.), remittance and payment centers (Bayad Center, Palawan Pawnshop, etc.), over-the-counter bank deposits (BPI, Metrobank, etc.), and even through Google Play.
On the other hand, one advantage of Lazada over Shopee is the availability of installment payment plans, which even non-credit cardholders can take advantage of with the help of Billease, Cashalo, and other digital credit platforms. A friend mentioned that this installment feature is the reason why he could buy expensive appliances and gadgets through Lazada.
Delivery and Shipping
I live in Metro Manila, and from experience, there isn't much difference in delivery times between the two platforms. But friends based in other parts of the country say that their Lazada orders arrive earlier in most cases, especially for international deliveries.
One less obvious difference between the two is that Lazada has a logistics infrastructure set up. They have wholly-owned warehouses and fulfillment centers around the country, which might explain why their delivery times are shorter and more reliable.
However, having that logistics infrastructure could be the reason why Lazada's shipping fees tend to be higher than Shopee's. Moreover, Lazada has fewer shipping options as compared to Shopee, so there's less likely that you'll get the best delivery rate in the market.
In general, if you want your item to arrive faster and you don't mind paying a little bit more for shipping, then order from Lazada. If you want to pay less shipping fees and you don't mind waiting a few extra days, then Shopee is your first choice.
Buyer Protection and Customer Service
Last but definitely not least is buyer's protection and customer support.
There's Shopee Guarantee that provides security for buyers against fraudulent sellers. Meanwhile, Lazada has Payment Protection, which covers unauthorized transactions. In this regard, I like Shopee Guarantee better.
Both platforms have order tracking. However, it's easier with Lazada because its on-site tracking tool provides quick, real-time, and detailed status from its delivery service and logistics partners. In Shopee, you'd have to go to the third-party courier's website to check where your items are.
Lazada and Shopee provide 24/7 customer support but from experience, it's harder to return items bought from Shopee and you need to pay for the return fee in all cases. Returning or getting refunds from Lazada has been easier and faster for me. Additionally, Lazada offers free returns for some items, especially appliances and gadgets.
Final Thoughts
I hope this comparison between the two biggest shopping apps in the Philippines has helped you in your spending decisions.
I don't think there's any clear winner between the two. And that's why I shop in both. But for items that are less than P1,000, I normally buy in Shopee. For more expensive items and those which I urgently need, I purchase them from Lazada.
One final tip for those thinking of buying something online. Check if the brand or company has its own online store. Because it's always much better to buy directly from them on their website.
This article also appeared in MoneySense Magazine.
What to do next: Click here to subscribe to our FREE newsletter.