Updated: November 2, 2022
If you're currently in Singapore, then check out this financial literacy event featuring my colleagues, Jess Uy and Randell Tiongson.
Now that we are in the post-pandemic recovery period, how do you navigate your finances so you can prosper in the years ahead? How do you invest and prepare for retirement given the current times?
Let Jess and Randell guide you to the answers by attending Singapore Money Talks 2022: Navigating the Future.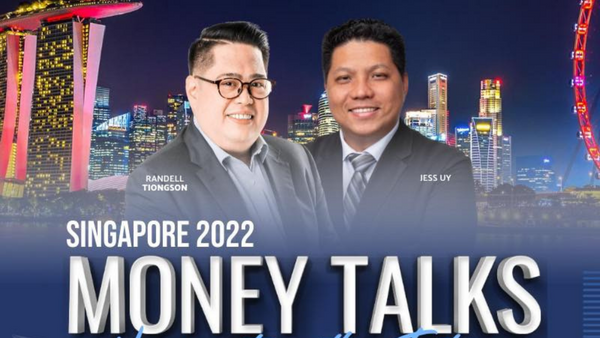 DETAILS:
When: Oct 15, 2022 from 1pm to 5pm.
Where: Life Long Learning Institute, 11 Eunos Road, 8, Singapore.
Learning Fee: SGD 50.
About the Speakers
Jess Uy is the go-to financial expert and advisor for global investments. Based in Singapore, he is the advisor of choice for many business owners, executives and OFWs who want to invest in global funds.
He's often invited to speak and guest on TV, radio, and in magazines in Dubai, Singapore, Philippines, New Zealand, and Australia, featured in different news, magazines, and programs such as ANC's On The Money, OFW Usapang Piso, MoneySense, and Money Talks Singapore.
Randell Tiongson is an advocate of Life & Personal Finance. With nearly 30 years of experience in the Financial Service Industry – Banking, Mutual Funds, Insurance, Financial Planning, and Management Consultancy – he has become one of today's most respected personal finance coaches in the country.
Also, he is a Director of the Registered Financial Planner Institute Philippines and also a strong advocate of financial education for the OFWs. He has given lectures in 15 countries outside the Philippines.
He regularly appears on various media outlets as a resource person for TV, radio, and online programs and also had a segment called Money Talks which aired daily at 103.5 K Lite FM in 2014, and a regular weekly program, also called Money Talks, in 106.7 Energy FM in 2013.
What You'll Learn
How to properly prepare a comprehensive retirement plan that is personalized just for you based on a framework that's been proven to work.
Discover how you can truly live a life of comfort & learn about the proper investments that is best suited for your needs.
Plus additional topics of interest based on your biggest questions submitted upon registration or asked in the event itself.
I'm not available on the date, when's the next one?
This is a special one-time event. So do your best to come to this one.
When it comes to investing for our future, the best time to start was yesterday… but the next best time is NOW.
If the pandemic has recently taken you off track on your financial plans, then this is a good opportunity to recalibrate your finances and grow your wealth for the future.