Updated: January 31, 2023
If you want to retire rich, then you need to invest – and the earlier you start, the better.
As most financial planners would say, your "time in the market" is more important than "timing the market"; and that's why the best time to start investing is NOW.
Fortunately, you don't need to have a lot of money before you start investing. There's already a good number of investments out there that only require P5,000 to start.
Thus, with the proper mindset and a good understanding of how investments work, it will be easy to build a million-peso retirement account for yourself.
To illustrate how this can be done, I've created two tables below, which give you a glimpse of what would happen when you start investing today.
First, this table gives you the length of time that you need to invest if you want to have one million pesos.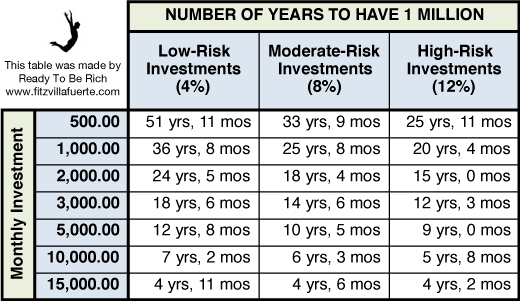 As you can see, if you invest P500 monthly in a low-risk investment, then you'll have a million after 51 years and 11 months. It may take longer, but what's important to realize here is that your total cash out to get that million would only be P311,500.
So let's say that you want to have a million after around 10 years, you can use the table and see that you only need to invest P5,000 monthly in a moderate-risk investment to achieve this goal. Note that in this case, your total cash out would only be around P600,000.
Now, ask yourself how much can you afford to save and invest every month, and then use the table above to see how long it will take for you to have one million in your account.
This second table below, on the other hand, gives you an idea of how much money you'll have after 20 years of consistent investing.
This table is more interesting because it shows you how much value you'll be missing out on if you're afraid of risk.
Consider investing P15,000 per month for 20 years – if you put the money in a low-risk investment, then you'll have around P5.3 million. But choose a high-risk investment and you'll have more than twice that amount at P12.9 million.
Of course, we all have our risk tolerance –Â some people can remain calm during bear markets, but others are truly not comfortable with seeing markets go down.
If you belong to the latter group, then you should accept the fact that you'll be earning less from your investments in exchange for less anxiety and a bit more peace of mind.
Now, it's time to again ask yourself –Â given the amount that you can invest monthly, and the type of investment that you'll be comfortable with, is the projected growth after 20 years acceptable to you?
How To Retire Rich
Building a million-peso retirement account should not be complicated.
All you need is to properly set your goals, do the numbers, and passively invest regularly for many years.
What to do next: Click here to subscribe to our FREE newsletter.