Updated: August 9, 2020
How big is one million pesos? What I mean is physically, can you visualize how much one million pesos would be?
I was tinkering with my one million peso calculator last night when a thought suddenly came to me – if someone gave me a million pesos today, how would I bring it to the bank?
Instantly, I imagine myself holding a briefcase containing all that money walking through the doors of the bank.
I'd put the briefcase on the counter and say to the teller, "I'd like to deposit one million pesos to my account please."
Nice huh? Just like in the movies…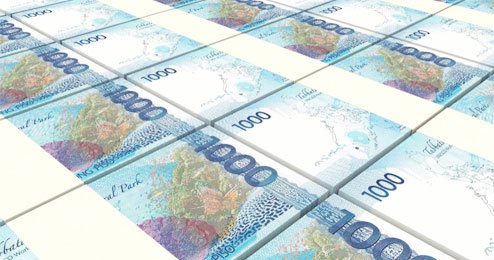 But before I could continue with my thoughts, I suddenly remembered that not so long ago – a friend of mine sold his car. The next day, I accompanied him to the bank to deposit the payment.
After the transaction, I asked him, "Why didn't you deposit everything?"
"What do you mean?" he replied. "I deposited everything – all P400,000 – see?" he said as he showed me his deposit slip. "Those 3 white letter envelopes I had in my hand was everything."
That memory made me realize that my earlier "briefcase scenario" could possibly be not so "cool" after all.
Imagine proudly opening the briefcase to the teller, then you showing an almost empty briefcase with nothing inside but 8 white envelopes.
A bit embarrassing I would say, and comes as almost melodramatic.
How One Million Pesos Looks Like
Restless with my thoughts, I went to my brother who was currently counting his eLoad Business sales for the week.
I borrowed 100 pcs of paper bills and did a little experiment.
Shown above is a bundle of 100 pcs of Philippine Peso bills. No, they're not all P1,000. But if they were, that would easily sum up to P100,000.
And how big is that bundle exactly? I took a ruler and measured it.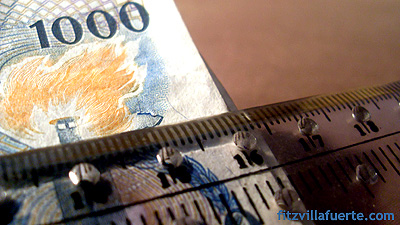 So a Philippine Peso bill is approximately 16 cms in length and 7 cms in depth. The height (thickness) of the bundle is approximately 1 centimeter.
So P1,000,000 would approximately be 1,120 cubic centimeters in volume or just the size of a medium food Styrofoam packaging, which is approximately 15 cms x 13 cms x 6 cms (inside measurements).
So why am I telling you all this?
I guess it's my way of saying that one million pesos is not that much money after all (well, at least physically).
Which is good because you can now do some visualization exercises by grabbing that fast food Styrofoam that contained your lunch today, closing your eyes and then saying to yourself, "I am a millionaire."