Updated: March 19, 2020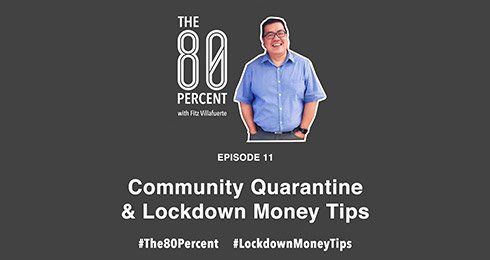 Summary of Episode 11:
For those who are feeling anxious because of the recent events, you can check out what I wrote recently: How I Deal With Anxiety and Remain Productive During These Stressful Times (1:00)
The Financial Fitness Forum 2020 has been rescheduled to May 23, 2020 and the new venue will be at the SMX Convention Center, SM Aura, Taguig City. (1:40)
Tip #1: List down your expenses. Study how you're spending during these times that you're living a a simple lifestyle. (2:50)
Tip #2: Explore and learn mobile and online banking, digital banking, and digital wallets. (4:10)
Tip #3: Clean your house. Group items into four categories: keep, sell, donate, and throw. Likewise, check and organize your financial and legal documents (7:35)
Tip #4: Define, revisit, and reassess your financial goals. (10:35)
Tip #5: Explore, learn, and make money online as a freelancer. (12:40)
Pinoy Online Freelancers Facebook Groups:
There are many more, just search and ask around these groups.
List of Freelance Job Marketplaces:
Episode 11 Hashtags: #The80Percent #LockdownMoneyTips
Subscribe to The 80 Percent Podcast