Updated: March 19, 2019
Whenever a new business opens in our village, they would distribute flyers around the neighborhood. I'm not surprised about this because giving out flyers is really a good marketing strategy.
But what I would always notice is that, these businesses would do their flyer distribution for only a week or so and then stop when customers start coming. And the next time I'd see their flyers is when they're having a promo or when their business sales get low.
A few weeks ago, I said that marketing is an integral part of any business. More importantly, a business should be persistent and consistent with their marketing plan.
Thus, it follows that distributing flyers should be done on a regular basis and not just when the business needs a sales boost. And given this fact, I'd like to now share with you some business flyer design tips and how you can use it as an effective marketing campaign.
How To Design An Effective Business Flyer
Decide what will be the purpose of your flyer. Is it to announce your opening, a special promo or just a simple advertisement for your business?
Identify images and words related to that purpose and select which one will catch the attention of your target market. Your coffee shop is having a cake sale? Then perhaps consider using a baby eating a huge slice of cake to get the attention of people towards your flyer.
Why would people bother to go to your business? What problem does your business answer? What desire does your business fulfill? The answers to these questions will identify your selling proposition.
State a call to action. Simply put, what do you want people to do after they read your flyer? Visit your website? Call your number? Go to your shop?
Get a piece of paper and make a sketch of your flyer. Make sure that it contains the three elements above – the attention getter, the selling proposition and the call to action. Make several layouts and decide which one would looks best.
Finalize on the layout and design and print a sample. Ask the opinion of family and friends about it and adjust or tweak accordingly.
Contact your printer and proof read the flyer before making the whole batch. If your design is simple enough and monochromatic, risograph printing is usually the most economical.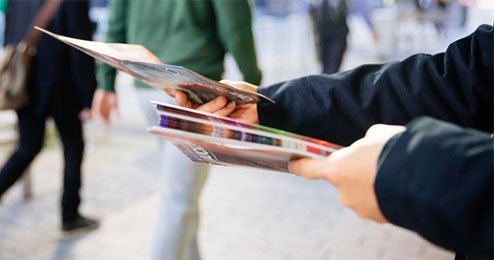 Additional Tips:
Hire a graphic designer or a friend with a design background to help you if you're having difficulties in making the layout and design.
Make it simple and easy to read. Use Times New Roman, Arial or other similar fonts that's properly sized for comfortable reading.
Use words that convey excitement and energy but don't use cliches.
Images and texts should not look cluttered. Make sure that the photos and the graphic arts have good resolution, not pixelated and not stretched nor distorted.
Put your business name at the bottom. People usually remember the last few words they read and you want that to be your business name.
Your call to action must be simple and easy to do and it's best to just state one. People will most likely comply if you tell them to do just one thing.
Distribute your flyers where your target market is. You'll probably get less customers to your laundry shop if you distribute them in residential subdivisions than if you give them away near condominiums and apartments.
You can also consider making the person who will distribute your flyers to put up a costume to get attention. This technique works well in crowded and busy areas. An unusual looking person will definitely stand out and spark the curiosity of the people around.
Again, be consistent. Do your best to distribute your flyers regularly, even if you don't have any special promos or new offerings. It's always good to just tell other people that your business exists and they can come and visit anytime they need your service.