Updated: November 20, 2017
Hello there stock market investor and welcome to this 5-minute lesson about the Philippine stock market. Below are eight charts that I would like you to see.
Each of these charts provide interesting insights, all of which leads to one important lesson about investing in the stock market that I hope you'll learn and remember.
Ready? Let's start!
First, you have to know that these are the line charts of the Philippine Stock Market Composite Index taken at different time frames, from 1 Day, all the way up to 5 Years.
Note: This post was written in November 2013, charts were taken during that time.
1 Day
If you bought shares at the opening of the market last Friday, November 8, 2013 – then your portfolio now has paper losses.
Stock prices are very volatile, and unless you have good knowledge on technical and fundamental analysis – it will be hard to predict what would happen each day.
And even stock traders, find it hard to make money intraday.
1 Week
It's a very steep fall last week for equities. If you invested in the stock market during the end of October, then you're probably hitting your head on the wall right now… but you shouldn't, really.
Weekly charts are still the territory of traders, and if you claim to be an investor, then this chart shouldn't even bother you.
1 Month
Last month was a roller coaster ride, that ends in the negative zone.
If you put money in the stock market a month ago and saw this, you're probably asking yourself why you didn't sell your shares during the third week of October.
3 Months
This chart roughly covers August, September and October 2013.
If you invested in the stock market last July, then you're probably now a believer of the "Ghost Month" as you watched prices fall deep during August.
If you had the courage to stay in the market, then you're out of depression now, but remain anxious as to when those negative numbers would go away in your portfolio.
6 Months
If you entered the market in May 2013, then you bought very expensive stocks as that was the peak this year. I certainly hope you didn't panic and sold your shares though.
One consolation here is that, a lot of companies gave out dividends during this time. So it's not at all that bad for those who held on to their shares.
1 Year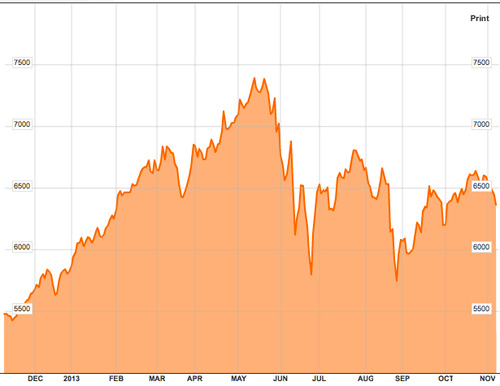 Last November 2012, many analysts said that the stock market was poised to go up. And as you can see, it did and broke so many resistance levels.
If you were savvy enough to buy stocks last year, then your portfolio is probably 10-15% up right now despite the "dips" and "corrections" this year.
3 Years
During the last quarter of 2011, Filipinos were busy following the arrest of Former President Gloria Macapagal-Arroyo. Meanwhile, the Visayas and Mindanao regions were devastated by Typhoon Sendong.
For those who were brave enough to enter the stock market during that time, the shares they bought have already gained 30-35% by now in my estimate.
On a side note, Janet Napoles-Lim is currently on trial, and Typhoon Yolanda just left the country – so I'm wondering if history will repeat itself, at least in the stock market… hmmm.
5 Years
Do you still remember 2008?
GMA was still President. We won Miss Earth. The Eraserheads held a reunion concert at Fort Bonifacio. And Manny Pacquiao won two fights, against Marquez and later on against Diaz.
If you bought stocks five years ago, your investment would at least be 50% up today.
It was Jollibee's 30th anniversary that year, and I remember buying JFC at around P50.00 each – last Friday, JFC is selling at P180.00 – that's more than 200% gain!
The Big Lesson
Stock market investing is LONG-TERM, at least five years I always say. So if you're not ready to let your money "sleep" for at least that long, then don't put money in it.
And that's your stock market investing lesson for today. I hope I was able to calm your nerves, especially those who just entered the stock market this year.
My advise is to continue learning how the stock market works, constantly monitor the prices of your portfolio, but don't let short-term dips scare you – because you are not a trader, you are an investor.
Read more: How To Invest in the Stock Market
What to do next: Click here to subscribe to our FREE newsletter.
Note: Charts were screen captured from Bloomberg.