Updated: September 5, 2019
As a tropical country, the Philippines is filled with different kinds of fruits. It is, in fact, a major producer of fruits like bananas, mangoes, coconuts, and pineapples.
That's why it isn't surprising to see tons of fruit vendors in marketplaces all year round. But before you drop whatever you're doing and set up your own fruit stand business, below are seven things you need to remember first:
1. Pick the Right Spot
I can't stress enough how important location is to a business. You should already know this by now, but the rules of thumb are to pick a crowded area where sidewalk vendors are permitted by the local government.
However, you should also pay attention to other factors, including the area's cleanliness, pollution, and the people's intent for being there.
A good strategy is to look for a number of potential locations. This will enable you to stay profitable even if your usual spot is unavailable, whether temporarily or permanently.
2. Sell on Peak Days
Depending on your location, there should be a couple of days where sales are noticeably higher.
For example, since Filipinos are devoted churchgoers, vending nearby should be an excellent idea. Just remember to respect the church grounds and avoid setting up your stand where it can obstruct foot traffic.
3. Learn About Seasonal Fruits
Some fruits sell better on specific times throughout the year. Watermelons, for example, do exceptionally well during the summer season. If frozen, they can actually sell for P10 a piece.
Of course, there are also staple fruits for the Filipino dining table, particularly bananas. These are in season 12 months a year. So as a fruit vendor, make sure you never run out of stock.
4. Form Partnerships
As an entrepreneur, you should always be on the lookout for opportunities to form mutually beneficial partnerships. It doesn't matter if you own a local convenience store or a tiny food cart; you can always find ways to boost profits if you know where to look.
For example, sari-sari stores that sell "meriendas" like halo-halo, saging con yelo, or banana que can become your regular customers. The same goes for stay-at-home moms who are open to ideas for extra income.
5. Track Your Sales
Going with your gut instincts is a terrible advice for business. If you are to make decisions that can drastically change how you operate, make sure it is backed by recent, valid data.
That said, you should be prepared to test drive strategies yourself. Regardless of the outcome, it's still better than relying on hunches.
For fruit stand businesses, your sales is one of the most important metrics you need to track. Over time, it will help you determine the best time to sell, where to sell, which products appeal to your area, and so on.
6. Respect Your Co-Sellers
Convincing customers that they should buy from you is a fulfilling achievement as a fruit seller, but that doesn't mean you should be rude towards competitors.
Running a business is hard enough by itself — the last thing you need to do is to make enemies.
Unfortunately, there's no specific blueprint to follow when it comes to outselling other stores. You can, however, beat them in terms of product quality and your helpfulness to customers.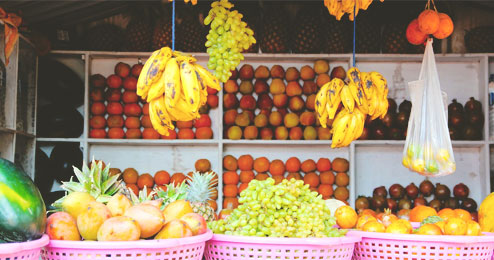 7. Always Prepare for the Worst
It may sound cliché, but you should never have a defeatist attitude if you want to succeed. Make no mistake that risks are unavoidable in every business.
Running a fruit stand business is no exception, especially in the Philippines where you need to factor in a number of unpredictable elements, such as floods, poor weather conditions, and even robbers.
What's important is that you keep rebuilding your business once the uncontrollable elements have passed. Rather than stressing out over them, focus on the things you can influence, including your knowledge and your attitude.
Do you run a fruit stand business? Do you know someone who does? Don't forget to share this post to them!
What to do next: Click here to subscribe to our FREE newsletter.