Updated: February 17, 2023
Do you want to start and open your own sari-sari store business? Then read further for these 10 effective tips to help you build a successful sari-sari store venture.
Needless to say, you don't want to go into this unarmed. A sari-sari store business may seem simple to start, but there are tools and strategies you need to know if you want to succeed faster.
1. Location
Most sari-sari stores are situated just outside the owner's doorstep, in front of their house. This gives the owner convenient and easy access to the store. While this is not entirely wrong, one should also consider other locations in the area.
The goal is to reach more people than your home, a larger market than your neighborhood. Scout locations such as nearby busy streets, around town plazas, adjacent to schools, and similar areas with a lot of foot traffic.
2. Business capital
Another important thing that you have to consider when planning a sari-sari store is your business fund or starting capital. Fortunately, there are many ways to get capitalization.
First, you can use your savings. But also, you can borrow from financial lending institutions. Choose a local credit cooperative that offers low interest rates for business loans.
The best advice I could give here is to never borrow money that asks for 20% interest or higher. They will just eat your profits. While these loan sharks lend you money right away, it is not worth it.
How much capital do you need for a sari-sari store business? At current, a P10,000 is usually enough money to start.
3. Sari-sari store business registration
You have to operate your business legally. And like all businesses, there are also laws and local ordinances that you have to follow.
Fortunately the process is not so tedious as compared to the requirements for bigger businesses or corporations. And most local government units nowadays now have One-Stop-Shop programs for processing of business permits, especially during the start of the year.
For easier processing of your business permit registration, here are the following documents that are commonly needed from you to process and submit:
Cedula
Barangay Clearance
Food Handler's Seminar Certificate (if you will sell cooked food)
Police Clearance
Tax Identification Number
SSS Number
Philhealth
Pag-IBIG Fund
Business Name Registration
Business Permit from the Mayor or City Office
Again, for faster business registration, visit your municipal/city hall first and ask if they have a one-stop-shop service. If not, then it helps to ask them for their list of requirements to register a sari-sari store business. That's because there are variations on the requirements for every locality.
Lastly, do note that Minimum Income Earners are TAX EXEMPT, but BIR still requires filing for TIN and annual tax returns for tax exempt individuals. This is a government requirement that you we need to follow.
4. Your customers
As mentioned above, you should pick a good location where you will have a lot of potential customers. This is in fact, one of the basic things to consider when putting up any business – to meet the needs of your target market.
So, you need to know what they'd most likely buy from a sari-sari store, which usually provides the things they need on their day to day living.
Also, remember that the best selling proposition of a sari-sari store business is not the products you sell but the convenience you provide. Furthermore, showing good customer service will go a long way in making them come back to your store.
5. Suppliers
Establish a good relationship with your suppliers because they can provide the lowest costs for the items you sell. If you can go directly and avoid buying your merchandise in supermarkets, then that's better.
Also later on, you can negotiate better terms and prices from product distributors. You can ask for bulk order discounts, a credit line, and longer payment terms.
6. Merchandise
If your sari-sari store is in a residential area, then the top sellers are food products such as rice, canned goods, noodles and condiments (e.g. salt, sugar, soy sauce, etc.); toiletries like shampoo, toothpaste, soap, detergents and the like; and snacks for all ages.
You can also stock in some cigarettes and liquor, but remember to get permits to sell them. Meanwhile, if your business is near a school, then you can also sell affordable snacks, drinks, candies, and school supplies. Moreover, in this age where everyone owns a cellular phone, then selling cellphone load is a must.
Lastly, it's always best to just ask your customers. You can start with the items mentioned above, but I recommend also asking them personally what else do they wish you sell.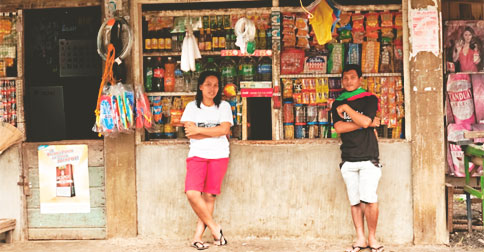 7. Selling price
Research how much your merchandise is selling around the area and simply match them. Don't immediately go into a price war and sell your items cheaper.
In fact, you can even sell it at a slightly higher price if you have a more convenient location. And if you offer good service, most customers will choose your store over others with grumpy sales staff.
8. Business accounting
Tracking your business transactions is vital to any successful business. You may not be an accountant, but you must have an accounting system to track your revenue and expenses.
For a sari-sari store, traditional ledgers notebooks will do good. But I recommend setting up a computer spreadsheet so that calculations and projections will be faster and easier.
9. Saving profits
Don't treat your sari-sari store as an extension of your house where you can just get anything at any time for free. As much as possible, if you need something, pay for it.
With that said, you should also separate the money of the sari-sari store business from your personal money. And save a portion of its profits for the growth and sustainability of the business. Don't pocket all the income, leave some for the future expenses of the store.
There are numerous sari-sari store success stories out there. Most of them grew from a 9 square meter store to a 20 square meter mini grocery after a few years. Those can only made possible by cycling back the profits into the business.
10. Serve your customers
A sari-sari store business is not just about selling, but also serving your customers. Many business owners forget this, but you should not.
You and your sales staff should always smile, and be happy to serve your customers. Be friendly and helpful. And get to know them personally. This helps build loyalty.
And that's it! I hope you found these 10 sari-sari store business tips helpful.
What to do next: Click here to subscribe to our FREE newsletter.